Bob,
I know I didn't thank you properly when I met you last Tuesday, so I'll do it now. I was so delighted with the piano you delivered that I surely wasn't thinking clearly. Music means so much to people who are confined to nursing homes and your generosity in providing such a lovely piano for the residence at Twin Pines is greatly appreciated. I have always been please when Tim tuned my piano so I knew I could rely on him for good advice. What I did not expect was a piano! I was privileged to play it for the residents last Wednesday and it's great – nice touch and sound. And I have a bench to sit on! Thank you, Bob and Tim, and anyone else involved in this endeavor to bring joy to those who have so little. I appreciate it so very much.
Eileen Kerns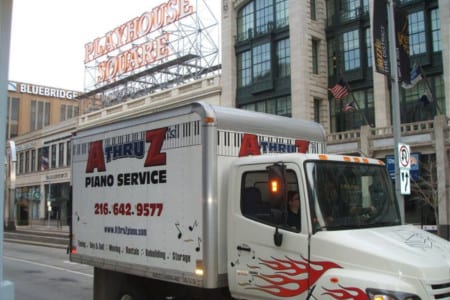 I've used Bob Zahtilla/A Thru Z for all our piano needs since 1993. That includes moving pianos, repairing & restoring an antique grand, installing Dampp Chaser systems in each of the two grands I've owned, and tuning/ maintaining them. He's professional, knowledgeable, reliable and friendly. Bob always does what he says he will, and WHEN he says he'll do it.
A year or so ago when I needed an appraisal for insurance purposes, he was extremely responsive and helpful. Bob's a treasure!
Donna Nowak, Cleveland Heights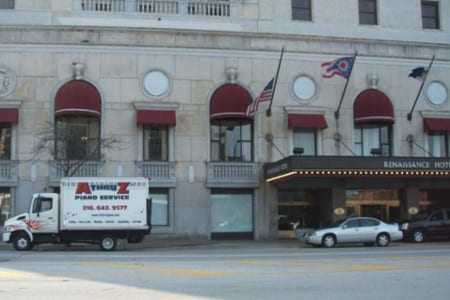 Bob,
Thank you for sharing your time and knowledge of pianos with us. We are so happy that Patrick has a quality instrument to play. If he ever makes it to Severance Hall you are sure to get an invitation.
Warmly, Julie Fields
Very professional, moved 650 lbs baby grand piano with in the house from living to formal living room, including moving over a few steps. Job performed above expectation.
Review from Angie's List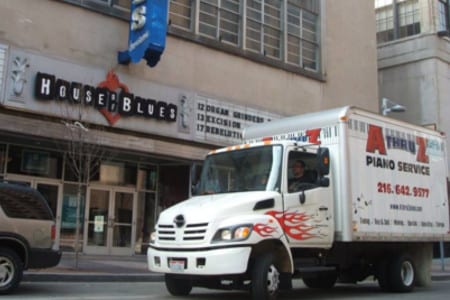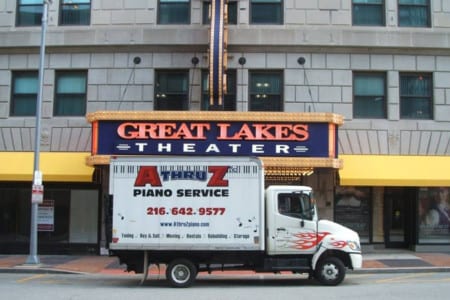 Wonderful family company! They gave me an excellent rate for a quick easy move on the piano I bought from my neighbor. The poor guys discovered the legs weren't connected when they lifted it up (something I didn't know about at all). When we got down to my apartment, they asked for some tools, and proceeded to repair the legs right there on the spot with no request for any additional money. I of course ended up throwing in a big 'tip' as thanks for their help. Solid, reliable, friendly service from a great group of people. I definitely recommend them.
Google User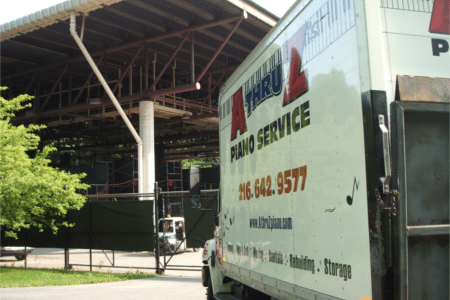 Bob has helped us purchase three pianos over the last five years, performed multiple deliveries both to and from our house and regularly tunes our pianos.  Beyond that, if I have a simple question, I know I can call Bob and he will always provide advice to me over the phone or via email.  His service is excellent!
Most recently he moved an upright piano we sold to a buyer in western Pennsylvania.  He did an excellent job moving the piano and both the buyer and I were completely satisfied with the transaction.
He also inspected a used grand piano we were interested in purchasing.  His inspection was thorough and his review was detailed and honest, covering both the positives and negatives of this particular piano.
Finally, once we moved forward with the piano purchase.  Bob tuned the piano and made other adjustments to improve the sound of the piano in its new home.
I highly recommend Bob for tuning, inspection and moving of pianos.
Scott Wayt, Russell
The owner, Bob, or/and his Son is ALWAYS there. For some reason we tend to call these incredible men when we are in a real pinch. And they always come through, and make things possible!!! I've used A thru Z three times, since I started learning how to play the piano. First time was a move from Northfield, OH, to Maple Hts. They were able to twist and turn a full size piano into a small bedroom on the first floor of a bungalow. Pretty nifty trick. The second time, I called in desperation to get a piano out of the house by a specific time, of course on a weekend, because we were moving. And Mr. Z and his son turned it around with time to spare. The third time was when I purchased a baby grand, and the owner of that place did not remember he had made the commitment to bring my piano to my home. Mr. Z took over on that, and got us out of the mess that "could not remember" had created. Then he proceeded to tune this piano, which probably hadn't been tuned for twenty years or so, and found all kinds of surprises, under the hood. Oh, brother… I'm sure he felt like running, but he continued to clean, and clean, and tune and vacuum, and tune. And by the end, Mr. Z had that piano looking and sounding mighty, fine. How can we thank you enough?? We do recommend you to everyone who needs anything," PIANO"…. Our next step, besides getting tuned, will of course be buying a Piano from YOU! Thank You, have a Wonderful and Peaceful New Year… You GUYS are the BEST!!!
Susan Zanath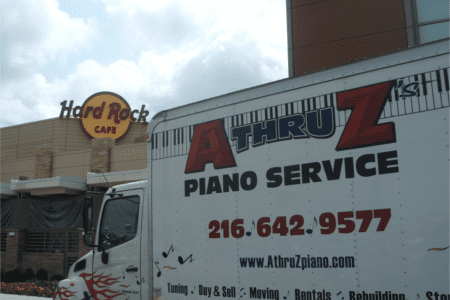 Bob was fantastic – You couldn't ask for more. A+ on service and reasonable. Willing to accommodate special needs.
Review from Angie's List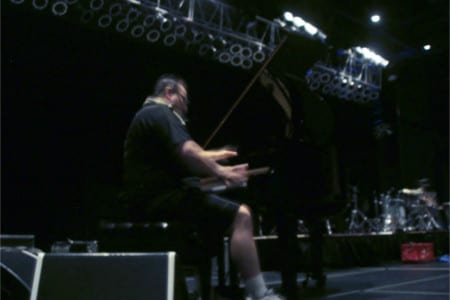 The man who used to tune our piano postponed twice — once for car trouble and once because he was sick. He is an old man and so by mutual agreement, he recommended A Thru Z. Bob Zahtilla arrived at our house on time. He found that the piano needed more work than he expected. The piano is 50 years old. He discovered that some of the pins are loose which makes it difficult to keep some of the keys in tune — especially the keys at the extreme high and low ends of the keyboard. He also mentioned that having the piano near a window also caused a piano to go out of tune because of the changes in temperature. Humidity was another factor. Bob worked hard and got the piano sounding a lot better. I was impressed with his knowledge and appreciated his explanations for factors that made the instrument go out of tune sooner that it usually does.
Review on Angie's List
ALL SERVICES PROVIDED AND PIANOS SHOWN BY APPOINTMENT ONLY.